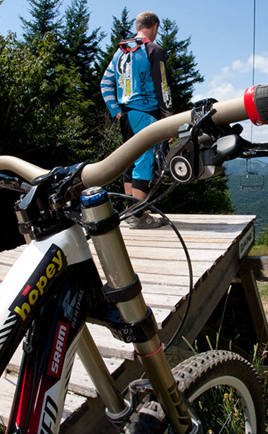 Product Features
NEW gravity steering damper
Read about hopey
gravity
click here
Click here
to see the install video
Improved Steering Damper
Click here
to see the just released video
Free return to center damping-
damping when turning away from center, no damping coming back to center.
"Accessible" on the fly damping adjustment-
damp on, when you want it or damp off, when you don't.
Adaptable to 1-1/8" threadless headsets-
requires no modification to your bike.
Quality Construction-
constructed from the finest grades of aluminum and stainless steel.
Super durable design-
based on satellite dampers.
Lightweight-
only an approximate 140grams (4.9ozs.) weight penalty!